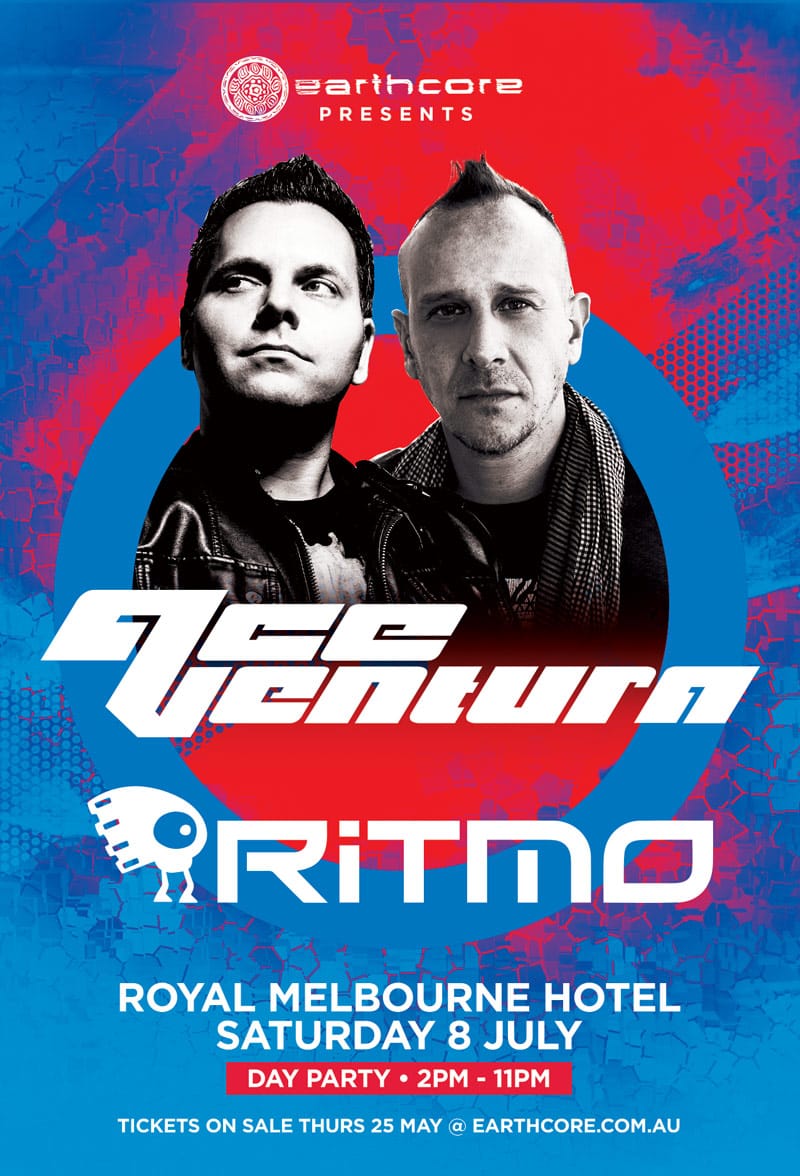 earthcore presents
ACE VENTURA
RITMO
Day Party
Sat 8 July
Doors 2pm-11pm
Royal Melbourne Hotel, 629 Bourke St, Melbourne CBD
Tickets on sale Thurs 25 May!
ACE VENTURA
Behind the Ace Ventura project is Yoni Oshrat – one of Israel's biggest talents in electronic music, with a career on top of the scene, stretching for over a decade. Already from an early age Yoni was heavily influenced with music. He was born in a musical family with his father being a famous Israeli composer and song writer, and it was therefore no surprise that he went for a career in the sound production industry, at first in the TV and movie industry as a sound producer.
After discovering the blooming trance scene in the beginning of the 90s, he started DJing and teamed up with his friend DJ Goblin to form the psychedelic trance project Children of the Doc, which later changed name to Psysex. Together they released 3 critically acclaimed full length albums on HOMmega and played a big part in establishing Israel as one of the most important trance countries on the globe. After several years of intense touring, playing at some of the biggest parties and festivals worldwide, Yoni's taste moved more and more towards the slower, groovier side of music, and from 2006 he took the decision to leave the Psysex project and form the solo project ACE VENTURA, and using a fusion of the hard, pumping dancefloor oriented style from Psysex and the deeper, groovier influences of progressive trance, the Ace Ventura project became a big success, and in a matter of just a few releases, such as the now classic debut "Cardiac Arrest", he was already considered among the top producers on the progressive trance scene.
After appearing on releases on labels like Flow, Echoes, Blue Tunes, Spintwist, HOMmega and Iboga Records he finally released his debut solo album "Rebirth" in 2007, which was without a doubt one of the biggest releases of the year. It resulted in Ace Ventura winning the psytrance category at the Beatport Music Awards in 2008. About one year later the album was followed by a remix album "Re:Boot", which contained two CDs with remixes by various progressive trance, house, electro house and techno artists. This release, together with the release of "The Spark", the summer anthem remix of FREq's "Short Life Again", as well as collaborations with various artists – also resulted in Ace Ventura winning the Psytrance category at the Beatport Music Awards in 2009, for the second year in a row.
Despite playing all around the globe, at major events from Boom in Portugal, XXXPerience, Tribe and Universo Parallelo in Brazil, Solstice in Japan, Glade in the UK , Ozora in Hungary to Indian Spirit, Tshitraka, Antaris and Full Moon in Germany, Yoni isn't resting on the laurels – working on other projects such as Easy Riders, together with fellow friend and partner Rocky, as well as on the project Zentura, together with Zen Mechanics, and last but not least, on the longtime collaboration Liquid Ace, together with Liquid Soul. Besides producing tracks for various labels, Yoni complied a few successfull compilations, namely the 'New Order' series for HOMmega, which was the first progressive release of the label, as well as 'Digital Beings' for Echoes Records.
Facebook – facebook.com/AceVenturaMusic
SoundCloud – soundcloud.com/schatsi
YouTube – youtube.com/user/AceVenturaMusic
Twitter – twitter.com/aceventuramusic
RITMO
Some say that our pulse gives us the rhythm of our body, life and soul. This rhythm is changing while we walk, run, eat, jump or have sex. Dubi Dagan, aka RITMO, has managed to formulate a unique technique that captures moments in our lives and translates them into an addictive rhythmic progressive trance creation. Ritmo has been tuning his sound skills as a resident DJ at the Luna Club at Haifa, and later as a sound engineer at DubiDub studios, a company responsible for dubbing television and cinema. Hungry for the perfect sound, he started to create his own music, and in 2007 joined the acclaimed Iono Music Records. In 2008, he released his awaited debut album "Disharmonic Silence" and immediately gained attention and popularity, locally and globally.
After the release of the debut album, Dagan had little rest or sleep due to the massive number of collaborations and gigs he had done across the world. Among the many incredible events he took part in were Fusion Festival (Germany), Ozora Festival (Hungary), BAT (Argentina), Tribe (Brazil), XXXPerience (Brazil), Universo Parallelo Festival (Brazil), Eclipse 2012 (Australia), Rainbow Serpent (Australia), Love & Light (South Africa) and many more.
In 2009, Ritmo released "Archive 9" collaborating with artists and forms of remixes. His remix for MUTe & Shay Nassi – On Off, topped the Beatport charts at the psychedelic trance section for 2 weeks. Always exploring his musical skills, Dagan has joined forces with Alon Brillant (Suntree) in a project called RITREE, as well as a project called Arctic with Gaudium.
In 2011, Ritmo released "Phrase A" and then in 2013 "Phrase B" which mark another development in crafting his sound. His most ambitious project to date is his current new album – "Adventures" – which came out in 2016. This magical soundscape captures and modulates the diverse rhythms Dagan absorbed during his tours across the world. "Adventures" shows Ritmo's sonic versatility, where he also collaborates with major acts such as Astrix, Ace Ventura and Liquid Soul. Tune in and join the adventure while blending in the rhythm and make it your own.
Facebook – facebook.com/ritmomusic
SoundCloud – soundcloud.com/ritmomusic
YouTube – youtube.com/user/dubida
Twitter – twitter.com/ritmomusic